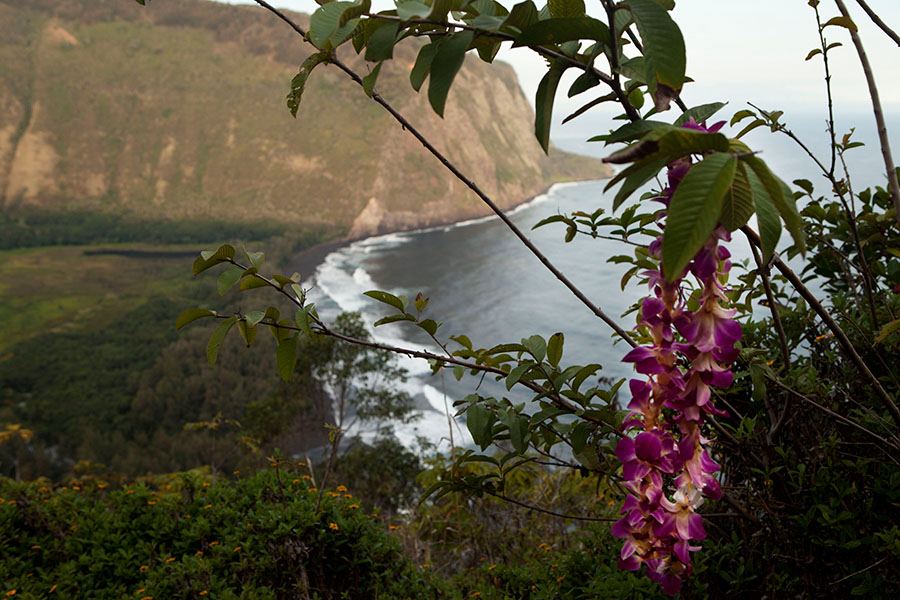 The other morning, I was supposed to meet a cultural expert to take me down into the Waipi'o sacred valley to film children learning how to harvest taro. Excited by the prospect, I arrived at the top of the valley early. Dawn was breaking as I began to unload gear from my truck. As I looked around for my guide, I saw an older Hawaiian lady with her walking stick walking down the street towards the overlook. As she passed, I said aloha, good morning. We talked for a few moments and then I returned to what I was doing. I checked my watch. Five to seven. Right on time, but my guide was still not there. The old lady was sitting contemplatively looking down into the valley. She looked so serene and peaceful that I wanted to photograph her, yet I didn't want to disturb her. I walked up quietly and she invited me to sit and talk story with her. Rather than take out my camera, I decided to simply listen.
Her name was Gladys. I'm guessing she was in her late 80's or early 90s. She says she takes this walk to the overlook every morning. She grew up in this area, in the Hamakua district. As a young girl, she lived with her family down in the bottom of Waipi'o valley. She told me stories of how her life was farming taro. She said it was a hard life, but a peaceful life and that's why, even though most of her children have moved away, she stays here.
As she looks over the valley, I can see her mind's eye time-traveling backwards to the past. She told me that she used to have to walk up the steep hill everyday to go to school. That back then, it was just a dirt road and that when it was time to go home, they would look for the biggest ti leaf they cold find. They would sit on the ti leaf and slide most of the way back down the hill. It's steep. As she's talking, I see a sign that warns trucks to put their gears into four-wheel drive and that the grade is 25%. It looks more like 45% to me. A truck stops as I watch and then begins its slow descent down.
She then tells me how a tidal wave washed out most of the valley in the 1940s. But that they were all lucky and no one died.
Pretty soon, Gladys decides its time to head home. We say our good byes. It nearly 8:00am now. My guide is still not here, but Glady's stories and the view inspires me as the valley below beckons me and I begin to walk down.
The walk is much harder than it looks, the road steeper than I thought. No wonder Gladys is still so hardy, even in older age. Several trucks filled with surfers and surfboards stop to ask me if I want a ride down. No, I want to walk. No, I'm not crazy. I simply want to take my time and experience what it would feel like to walk down. At the bottom, I take a dirt road, filled with potholes and mud, out towards the ocean and the black sand beach. The sun is just over the high horizon and is sparkling out on the waves.
I spend a few moments and talk to some local surfers. They gloat with excitement at how much they love this place, their home, in the Waipi'o valley. One is a haole, a white person, whose parents moved here in the 80s. I wonder if he knows how lucky he is?
A surfer invites me past the fresh water river, roaring into the open ocean. I vacillate whether I want to cross and in the end, decide I can get better footage on the other side. Like the steep road, the water is rougher than I thought and I fall down. I am soaked from the waste down. My backpack is drenched and fills with water. The currents are threatening to dump me into the ocean at the same time as the shore currents are threatening to dump me again. I struggle to get my footing to get up. My left arm is high in the air, saving my camera. I don't know how I do it, but I finally manage to get up and cross. I then spend some time filming and simultaneously laying out and trying to dry everything in my backpack.
On the way back, I choose my route more carefully. Half way through, I feel like the current is going to take me down again. This time, I pursue my path the Hawaiian way. I say a little prayer and ask the ancestors, the ancient ones for permission to pass. I thank the river and the ocean for cleansing me. Instantly, my feet are released and I am on the shore. I can't believe I didn't fall again.
After wandering the back roads, inhaling fresh air, soaking in the view of waterfalls and lush green land, it is time to go back. I dread the walk up the hill. I know it's going to be hard.
I think of Gladys as I begin my ascent. How she and her brother had to walk this hill every day just to get to school. The thought makes me grateful that my life has been easy; and sad at the same time, because I have to leave a place with so much peace and beauty. Unlike Gladys, I don't make it all the way up the hill. Half way up, tired, with no food and my water nearly gone, I give in and accept a ride with some surfers, which was great because I got to use the film footage for my documentary Breath of Life. We talk. I recognize one that had been catching epic waves on a boogie board. I tell him I have some footage of him.
My gratitude increases exponentially. I thank my gods I arrive at the top safely and look forward to my next travel photography adventure. (ps: no, I never did find my guide….)